Dear people, dear ukulele fans,
We hardly send any newsletters anymore, while there is of course always something to say.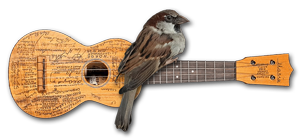 As most of you know, we were the first physical ukulele store in the Benelux. That was very nice for a while, because we were the only ones with knowledge and know-how and, moreover, with an extremely extensive product range.
Because of our pioneering spirit and vision, we were not taken very seriously in Europe, especially in the first few years. Music on the ukulele was a niche and really only for the few people who understood that.
Because of our interactive Ukulele Chord Finder, created in 1998, the ukulele started to gain popularity especially in America. Our website was literally the very first ukulele website in the world and therefore the best: www.ukulele.nl/soundhole. One had to dial in with a telephone modem to look up a chord. At a certain point it became more and more expensive. Then Ukemaster Koekje made a FREE download version for Mac or PC.
This has been downloaded 30,000 times. We could have become millionaires with it!
Another thing that could have made us a millionaire is www.ukuleleplayalong.nl. A fantastic learning environment with lots of beautiful songs & video clips to play along to immediately. All put in by hand, so no nonsense chords. In addition, the website has a very nice clear interface and you are in direct contact with the Ukemaster. If something isn't right or if you don't understand something... just get in touch. Plus, you can make requests!
Well, then why aren't we millionaires yet? Incomprehensible!
For the simple reason that we are NOT commercial, too cheap for what we have to offer and because we can't sell our fantastic products to the general public...
Of course you can help us with that! Start by first taking a membership to the Play Along for only 25 euros per year!! Really ridiculous, that should be per month!!

Make a request for the FREE playlist! That only costs you 5 euros! The children in Singapore earn even more I can tell you!
Buy 1 of our books! For example, the One Finger Ukulele Songbook, anyone can do it, buy them in bulk and give them away to your friends!